Peacenik Pacifist Libtard Doves Worldwide Protesting 3 Year Anniversary of Iraq War
Mood:
silly
Now Playing:
(Also can be catagorized under the topic ''Lib Loser Stories'')
Topic: My Columns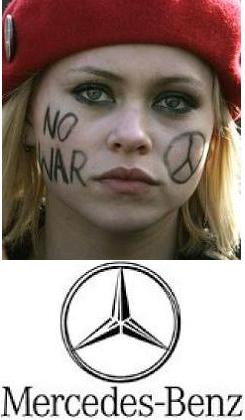 Peacenik Pacifist Libtard Doves Worldwide Protesting 3 Year Anniversary of Iraq War

Anti-War, Pro-Mercedes?

The
Drudge Report just purged it's frontpage of all the links of libtards all over the world, bitching about Iraq
. The occasion this weekend, was not the round number of 3000 U.S. soldiers killed - like earlier protests - but the 3 year anniversary of the Iraq invasion. I surfed through all the links posted, and took away two interesting things that stuck out like a sore thumb in every mainstream media story. First, was the fact that the attendance numbers have dwindled from protests past - threatening the demented-crat textbook talking point that "anti-Iraq war sentiment is forever growing." Second, was the usual suspects of high profile pacifist doves from the media and Hollywood are now officially just as looney as the moonbat Moveon type bloggers in libtard land. A case in point, that wasn't gleened from the internet this morning, was late last night when I realized I've been missing a "free preview weekend" of HBO and Cinemax that I'm not subscribed to on the Dish Network satellite service. I tuned in to the first viewing of
Bill Maher's "Real Time"
show I've seen in years. It hasn't changed since the "Politically Incorrect" Comedy Central days - 4 to 5 libtards ganging up on one token conservative.
But the St. Patrick's Day episode I witnessed was a sight to behold. To make the long story short, libtard "comedian" Richard Belzer (who I never thought was funny) was berating the lone, token conservative guest, Rep. Ileana Ros-Lehtinen (R-Fla.) Apparently, the fact that the congresswoman has a family member in Iraq, and having been to Iraq herself lately... had no effect on libtard Belzer, who shouted her down, saying (to the effect) "You don't know fucking shit about what's going on in Iraq, and neither do the troops... I read over 20 newspapers a day." So there you have it. An endless supply of libtarded bias stories about Iraq trumps visiting there, hearing first-hand accounts of soldiers you know, or even serving there as a soldier yourself! Those "intellectual, smarter than everyone else" liberals never cease to amaze.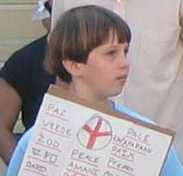 It's not really worth mentioning, because it's no big deal to me. These libtards are still the irrelevant, ankle biting, bitter-ass losers they've been for the past three years. A little more unhinged, but a little less in number willing to appear at the bitch-fests. But I figured anyone listening to the latest demented-crat bemoaning of the "civil war" in Iraq - which in reality, isn't happening... would get a kick out of the latest whine-a-thon that diminishes their misguided cause, instead of advancing it.

And by the way, when an idiot draws the peace sign upside-down, does it mean "war"? Anyway, here's the barrage of links...
Breitbart.com ~ Associated Press - Paul Burkhardt ** Anti-War Protesters Rally Around World
Access North Ga.com ~ AP - Nathaniel Hernandez ** Anti-War Rallies Mark Iraq Anniversary
Breitbart.com ~ Agence France-Presse ** 'Crash' director to lead Hollywood anti-Iraq war protest
Drudge Report Archive ~ 3/19/06 Early Morning Frontpage ** Protest Weekend
Anti-war protest fizzle in USA...
Salt Lake Tribune ~ Ellen Fagg / AP-NYT ** Anti-war protesters in SLC, elsewhere lament apathy
Breitbart.com ~ AP - Michelle Roberts ** Global War Protests Attract Smaller Crowds
MSNBC.com ~ FT - Christopher Swann ** Quiet disapproval in US marks war's anniversary
Related:
NewsBusters ~ Brent Baker ** Belzer Proclaims He Knows Better About Iraq than Uneducated Soldiers in Iraq
Posted by yaahoo_2006iest at 9:28 AM EST
Updated: Monday, 20 March 2006 4:48 AM EST